SIS Stuttgart-Fellbach Secondary School prepares the students for two attractive school-leaving certificates – the German Abitur and, if desired, the International Baccalaureate (IB) Diploma. With the German Abitur and the IB Diploma, there is no limit to the educational opportunities our students can pursue.
Secondary School Curriculum
We follow the Baden-Württemberg curriculum for eight-year secondary schools. In the interest of a solid and diversified education, we focus not only on bilingualism, but also on mathematics and natural sciences. We regularly conduct project days and weeks on various topics in the natural sciences. Our students present their results in a science fair, where the best ideas and projects are awarded.

Starting from Year 8, the students can choose a major subject (Profilfach). We at SIS Stuttgart-Fellbach offer a choice between science and technology and Spanish.
Bilingual Secondary School
At SIS Stuttgart-Fellbach English and German are given equal importance, both as languages of instruction and interaction. Each subject is usually taught in one language – either in English or in German – for the duration of one school year. However, great care is taken to ensure that our students acquire subject specific terminology in both languages and that the subjects are taught equally in German and English as far as possible.

In addition to the ability to intuitively participate in multilingual lessons, our students also acquire solid and hands-on IT skills.
Art, music and sports are also an integral part of our private school. Our art studio provides the space, where the works of art for our annual art exhibition are designed and created; rehearsals for concerts and musicals take place in our auditorium; sport lessons are held in the gymnasium located right in front of our main building. Debate courses and competitions, student exchange programmes and class trips, all foster language development while simultaneously enriching our school life.
Abitur and International Baccalaureate Diploma Programme (IBDP)
Our students graduate with the German Abitur. However, as a recognised IB World School, we also provide the opportunity to simultaneously acquire the International Baccalaureate (IB) Diploma. In Years 11 and 12, students follow an integrated programme, that prepares them for both sets of exams.

The academically challenging combination of Abitur and IB Diploma is only offered at a handful of German schools, making it one of the distinct benefits of attending SIS.
Learn more: International Baccalaureate Diploma Programme (IBDP)
Our students take national and international benchmarking tests in mathematics, German and English on a regular basis. The test results facilitate teachers in the performance analysis and enable management to benchmark our school against other institutions. Students also participate in international competitions in mathematics, history and other subjects.
Our secondary school is a state-recognised private school and thus enjoys comparable status to public schools. Examinations and certificates, in particular the Abitur exam, are equivqlent to those issued by state schools.
Learn more about the status of the school
What Sets Our Secondary School Apart
bilingual secondary school
state-recognised
major subject (Profilfach) starting from Year 8: "Science and Technology" or "Spanish"
double diploma possible: German Abitur and International Baccalaureate (IB) Diploma
learning by experience: enriching programme comprising of national and international learning activities
benchmarking tests
Student Life
Spaces that Invite Learning and Activities that Endorse Our Culture of Learning
Student Life
Spaces that Invite Learning and Activities that Endorse Our Culture of Learning
We are convinced that the place where students learn has a decisive influence on how they learn. We therefore place great importance on an open school space that provides a welcoming atmosphere to students, staff, parents and guests alike, thus creating a pleasant overall environment. We cultivate multiple signature school events and regularly participate in activities that involve all SIS schools around the globe.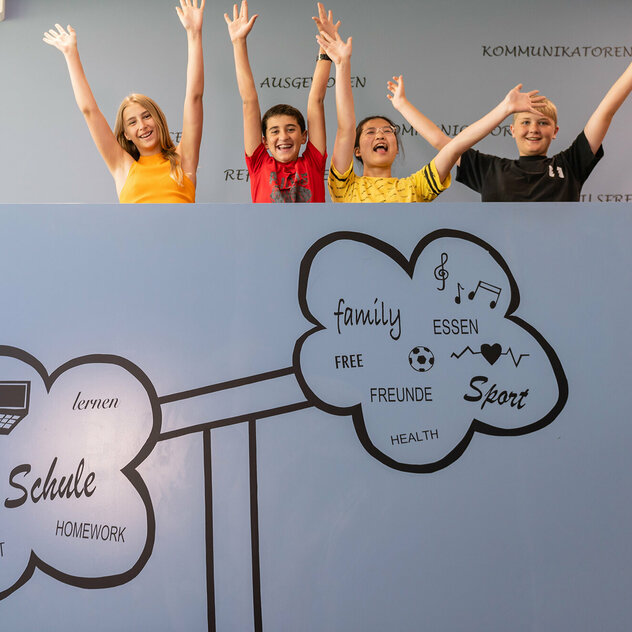 Good to Know
A Good Concept Is One That Is Put into Practice