SIS is a place of learning, in a holistic way. We care about the development of emotional, social skills as much as about the acquisition of knowledge. As a day school, we are committed to doing everything we can to support children as they grow up and to provide a valuable complement to their family life. This includes a lunchtime meal option, after-school care, a shuttle bus, as well as other exciting activities.
Afternoon care from 4:30 p.m. to 5:30 p.m. is open to all students at SIS Berlin. During this time, students can choose between various leisure activities (reading, painting, playing, etc.) and after school clubs or play and relax outdoors. Children are supervised by a member of staff at all times.

After-school care can be booked on a daily basis. The costs are not included in the school fees and can be found on our price list.
All SIS Berlin students have the option to sign up for a hot lunch – a meal enjoyed collectively in our bright and friendly cantine. Kindergarten children eat in their own facilities. Each lunch menu is attentively put together so as to offer a healthy and balanced meal that also appeals to children.

Lunch is available from Monday to Friday and can be booked for an additional fee. Alternatively, your children may also bring food from home, to be eaten in the shared space.

Before or after lunch, there is time for the children to have fun and play, generally outdoors. During the lunch break, there are always SIS staff members on duty to supervise the children.
We offer our students of all ages a range of extracurricular activities and clubs, allowing them to develop skills that complement their school work or offer a welcome change from the regular academic programme. Our clubs offer many different activities and can be booked for one semester. The costs of these clubs are not included in the school fees. Please contact our school office for more detailed information.
SIS school transport takes students from the Haus des Rundfunks/ICC Fairgrounds to school and back every day during school hours. A limited number of seats are available. The cost for the shuttle bus is not included in the school fees. For detailed information, please contact our school office.

Student Life
Spaces that Invite Learning and Activities that Endorse Our Culture of Learning
Student Life
Spaces that Invite Learning and Activities that Endorse Our Culture of Learning
We are convinced that the place where students learn has a decisive influence on how they learn. We therefore place great importance on an open school space that provides a welcoming atmosphere to students, staff, parents and guests alike, thus creating a pleasant overall environment. We cultivate multiple signature school events and regularly participate in activities that involve all SIS schools around the globe.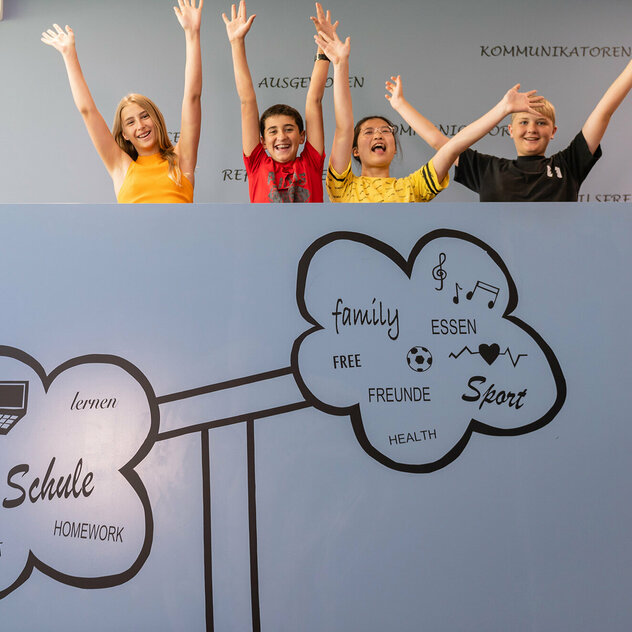 Good to Know
A Good Concept Is One That Is Put into Practice